14 December 2012
© Peter Eeles
Citation: Eeles, P. (2012). A Review of: Searching for Butterflies in Southern Bulgaria (DVD) [Online]. Available from http://www.dispar.org/reference.php?id=68 [Accessed February 21, 2018].
A Review of: Searching for Butterflies in Southern Bulgaria (DVD)
| | |
| --- | --- |
| | |
| Front Cover | Back Cover |
by Paul Wetton
From the author: After visiting the British Bulgarian Society stand at the Bird Fair in 2011 we decided on our first venture into Eastern Europe on a guided tour looking for butterflies in the South of Bulgaria and in the Pirin and Rila mountain ranges.
Our trip began in Sofia during the last week of June with our local guide and wildlife expert Assen Ignatov. We headed east to our first destination, the Arda Valley, before turning west and spending three weeks heading back to Sofia across Southern Bulgaria through the Eastern and Western Rhodopi Mountains, into the far South West of the country then North via the Pirin and Rila Mountains.
We searched for certain large enigmatic species such as the Camberwell Beauty, Poplar Admiral and Freyer's Purple Emperor. We found small butterflies found only in eastern areas such as Eastern Baton Blue and Little Tiger Blue plus the only definite record of Grass Jewel, new for South Western Bulgaria. Other Eastern specialities included Ottoman Brassy Ringlet, various Anomalous Blues along with Nicholl's and Bulgarian Ringlet all found in some spectacular riverine and mountain scenery.
A Review by Peter Eeles - 14th December 2012
This is Paul Wetton's latest DVD offering, following on from his successful A Butterfly Year and Searching for Butterflies in South West Switzerland DVDs. And I have to say, having watched every minute of this 2-DVD set, that this is his best work to date for several reasons. The first is that the footage highlights diagnostics that help distinguish one species from another, which is especially useful when looking at the array of grizzled skippers and Erebia ringlets. Another is that commentary has more depth to it than Paul's previous productions, with elements of life history, habitat choice (including altitude), larval food plants, nectar sources, behaviour and flight period described for many of the species seen.
Each of the two DVDs starts with an overview of the sites visited, before going into each site in detail. A good variety of sites is covered, providing an excellent array of butterflies seen, including those found at altitude in the Pirin, Rila and Rhodope mountain ranges. The footage of the sites themselves is an excellent complement to the butterflies seen.
| | |
| --- | --- |
| | |
| Arda Valley | Belmeken Reservoir |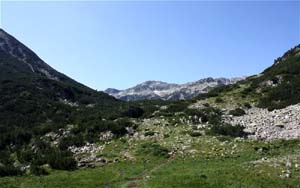 Bunderitsa Hut
On that note, while the focus of this DVD is clearly with regard to the butterflies encountered, Paul also includes other fauna (and flora) here and there, making for a more-rounded DVD that is representative of the trip as a whole, and includes footage of a Bee Eater colony, Marsh Frogs, Yellow-bellied Toads, a Green Lizard and several dragonfly species.
The butterfly footage itself is up to Paul's usual high standards. My favourite clips (and there are many to choose from) include a pristine Little Tiger Blue female, Eastern Festoons, Lesser Fiery Coppers, Apollo (including footage of four on a single flower head!), mud-puddling blues, Balkan Coppers, Balkan Blues, Freyer's Purple Emperor, Poplar Admiral and the first confirmed sighting of Grass Jewel for the region, if not the entire country! But my favourite footage has to be the shots of a pristine Camberwell Beauty slowly opening and closing its wings as it takes up salts. I really wish I could have been there!
| | |
| --- | --- |
| | |
| Little Tiger Blue | Grass Jewel |
The footage also includes several forms, including the eris form of Niobe Fritillary and cleodoxa form of High Brown Fritillary, both of which have subdued underside markings. Paul also came across an extraordinary number of valesina Silver-washed Fritillary, including half a dozen in one small area. Footage of central European forms of commoner species, such as small copper and common blue, is also included. There is also footage showing behaviour, including ovipositing females and mating pairs, but nothing prepared me for the extraordinary footage of a Common Blue mating with an Ilex Hairstreak!
The only minor criticism is that, given the length of the production (over an hour of footage on each DVD), it's easy to "lose your way" in terms of the geographic location of sites and it would have been better to have reintroduced the overview map as the DVDs progress. There's also a small amount of repetition in terms of species shown, but this is in keeping with a discussion of the different sites visited.
All in all, this is a magnificent piece of work and perfect viewing over the winter period. It certainly brought back memories of my own trip to this part of Bulgaria a few years ago, and it was a pleasure reviewing this pair of DVDs. Highly recommended.
| | |
| --- | --- |
| | |
| Balkan Marbled White | Common Glider |
How to Order
Click here to visit Paul's website where you can order the DVD.