28 March 2014
© Guy Padfield
Citation: Padfield, G. (2014). A Review of: A Naturalist's Guide to the Butterflies of Peninsular Malaysia, Singapore and Thailand [Online]. Available from http://www.dispar.org/reference.php?id=51 [Accessed February 21, 2018].
A Review of: A Naturalist's Guide to the Butterflies of Peninsular Malaysia, Singapore and Thailand
by Laurence Kirton
Publisher: John Beaufoy Publishing
From the publisher: This easy-to-use identification guide to the 280 butterfly species most commonly seen in Peninsular Malaysia, Singapore and Thailand is perfect for resident and visitor alike.
High quality photographs from the area's top nature photographers are accompanied by detailed species descriptions which include nomenclature, size, distribution, habits and habitat. The user-friendly introduction covers geography and climate, vegetation, opportunities for naturalists and the main sites for viewing the listed species. Also included is an all-important checklist of all of the butterflies of the region encompassing, for each species, its common and scientific name, IUCN status as at 2011 and its status in each country.
A Review by Guy Padfield - 5th July 2014
Identification guides that include only a selection of species from a region usually have an unsatisfactory air of incompleteness about them. In Europe we are spoilt by a wealth of butterfly books covering every possible species and form so it is natural to be a little snooty about one illustrating just 280 species out of over 1400. However, in the case of this compact field-guide to the butterflies of Malaysia, Singapore and Thailand, such snootiness would be wildly misplaced. It is an excellent book and just exactly what a butterfly-watcher visiting these countries needs, especially if unfamiliar with far eastern species.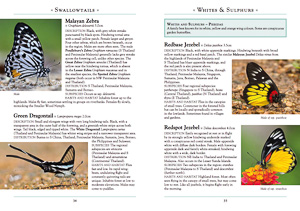 In the first place, it is small and lightweight, so ideal for carrying in the field. That would be of little merit if it didn't work, but the selection of species chosen for illustration is perfectly judged and an additional 190 similar or related species are described in enough detail to identify them, bringing the total number of species separable in the field to 470. In practice, this probably covers most butterflies a visitor to the region is likely to see without special effort. Where the species chosen for inclusion belong to larger groups of similar butterflies this is indicated in the text, giving a useful idea of the margin of error of any attempted identification.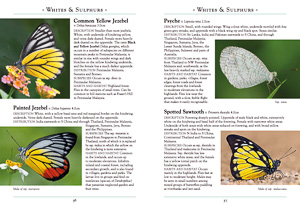 For many people this will be enough. Obsessives (like me) who feel a pathological compulsion to identify absolutely everything to species level will need more, but they probably won't find it in a field guide anyway, simply because of the number of species it would have to cover. For Thailand, the second edition of Butterflies of Thailand (Pisuth Ek-Amnuay, 2012) is a must - but it's a heavy tome and you wouldn't want to carry it in your backpack! There is also the internet. Once you have narrowed your butterfly down to genus level it is easy to go further using web searches. Thus, even for the obsessives there is a practical role for a lightweight, authoritative guide that fits in the pocket.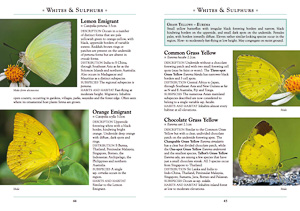 Of course, there is more to a butterfly book than practicality. Butterflies are beautiful creatures and the photographs and printing quality of this book really do them justice. I have enjoyed just browsing the pictures, all of which are of live butterflies in nature and though small, clearly the work of first class photographers. Even if you have no intention of travelling out east this is a book you might want to have on your bookshelf. Many of the species are familiar inhabitants of tropical butterfly houses too, so you don't actually have to fly halfway around the world to compare the real thing with the pictures.
The book also includes an intoduction to butterflies - fairly standard stuff, but geared particularly towards the butterflies of the region - and a brief guide to where to go in Malaysia, Singapore and Thailand.
If you plan to visit South-East Asia, I think you'd be silly not to get a copy of this book; and if you don't, but are interested in world butterflies, I can still thoroughly recommend it.